If you are interested in opening a Himalayan Salt Cave for the purposes of Halotherapy, you are probably wondering:
"What's the ROI for opening a salt cave?"
There is no guaranteed ROI per se. However, we encourage you to reach out to owners of existing salt caves in order to obtain real-time verified information. Most current salt cave owners will gladly advise of their ROI to prospective salt cave owners.
It would seem, now that most Covid-19 pandemic restrictions are over, that Halotherapy is a booming business world wide — as it boosts human immune health and offers benefits to various respiratory and skin conditions.
Salt Cave Revenue
The cost to maintain the cave is minimal, there are no outrageous expenses, and there is no work involved other than booking appointments for halotherapy sessions — as many as your salt cave can handle, depending on it's size.
Most salt cave owners report breaking even in their initial investment within 1 – 2 years of opening. Repeat visitors and word-of-mouth advertising from satisfied patrons add to the revenue stream. Not to mention, many workplace benefits plans cover the cost of halotherapy sessions, which further add to the revenue stream.
And finally, if you look at the big picture, after your initial investment is paid off, the rest of the existence of your salt cave is mostly all profit (minus operating expenses).
It's worth noting that many of our clients combine existing spa and therapy services with their salt cave. For example, many offer massage therapy, reiki, yoga, meditation, etc.. inside the salt cave, in addition to halotherapy itself.
How Much Can You Charge?
Salt cave halotherapy sessions can range from 20 – 60 minutes. A common session length is around 45 minutes. Depending on the length of the booked session, you may charge your patrons anywhere from $25 – $60 per session, on average. Other factors that may affect your pricing are location, competition, traffic, and size of the salt cave itself.
Of course, if your salt therapy session is combined with other services such as massage therapy or yoga, held within the salt room, the pricing can be different.
If your salt cave can accommodate several patrons at once, you can offer special group rates, or specials rates to promote your salt cave to first time patrons.
An Example ROI: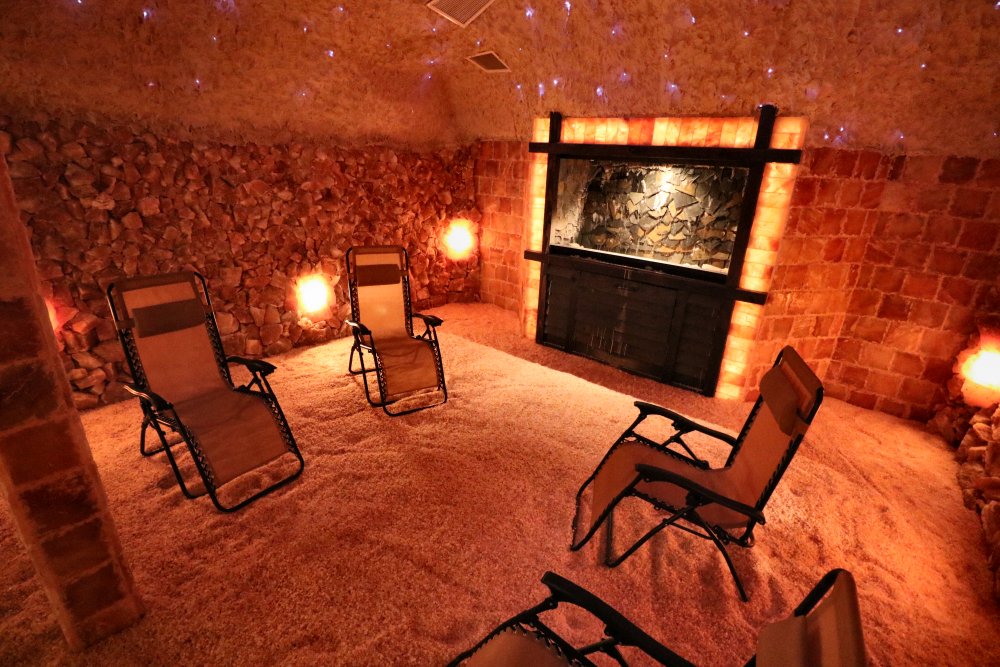 ROI to Open a Salt Cave: Very HighYou are open Monday – Friday, from 9:00am – 5:00pm and have only booked about 50% capacity, at 50% of your opening hours, in your average sized salt cave (240 ft.²), which comfortably accommodates six zero gravity loungers (3 patrons, for a total of 20 hours during the week).
Your rate is $60.00 per session, per person. Your revenue stream is $3600.00 per week, or $14,400.00 each month. This is just an example, but gives you an idea of the revenue potential for an average sized salt cave operating at half capacity.
Based on the above example, the yearly revenue stream is $172,800.00, only operating at half capacity, without accounting for other combined spa services.
To calculate the basic Return on Investment (ROI), we need to factor in the cost. What does it cost to build a 240 ft.² salt cave? Less than a third of the example above.
Suffice it to say that a large salt cave located in a high traffic location operating at maximum capacity can easily generate over $1,000,000.00 per year in revenue.
ROI Prognosis: Very High.
How Do I Get Started?
To get started, all you need is a room.
If you already have an existing room in place, you can convert it into a fully functional Himalayan Salt Cave, complete with ambient back-lighting, fibre-optic stalactite cave-like ceiling, and a medical grade halogenerator. This will allow you to advertise the various medical and therapeutic health benefits your salt cave has to offer.
Not to mention, visiting a salt cave offers the simple joys of relaxing, de-stressing, mood enhancement, and an enhanced sense of well-being. It's truly a win-win enterprise for everyone.
If you're interested in obtaining a price quote for your specific situation, we would be pleased to provide you with an estimated cost break-down. Our team will also help with planning, budgeting, marketing and promoting your salt cave business from start-to-finish.
---
We hope you found the information above useful. Leave a comment below, or contact us if you have any questions.