Salt Room Design and Construction
We design and build unique Himalayan salt caves and salt rooms across North America.
Family Owned and Operated
We Build World-class Himalayan Salt Caves.
Select Salt offers full-service design and construction services, backed by superior workmanship and our Select Salt quality guarantee.
What We Do + Our Services
Import, Design & Build
Whether you're looking to add a unique salt room to your home or business, decorate your existing walls, or are hoping to custom-build a new project from the ground up, our years of experience will help you get just what you're looking for. There is no project too big or too small. Here are some of our specialities.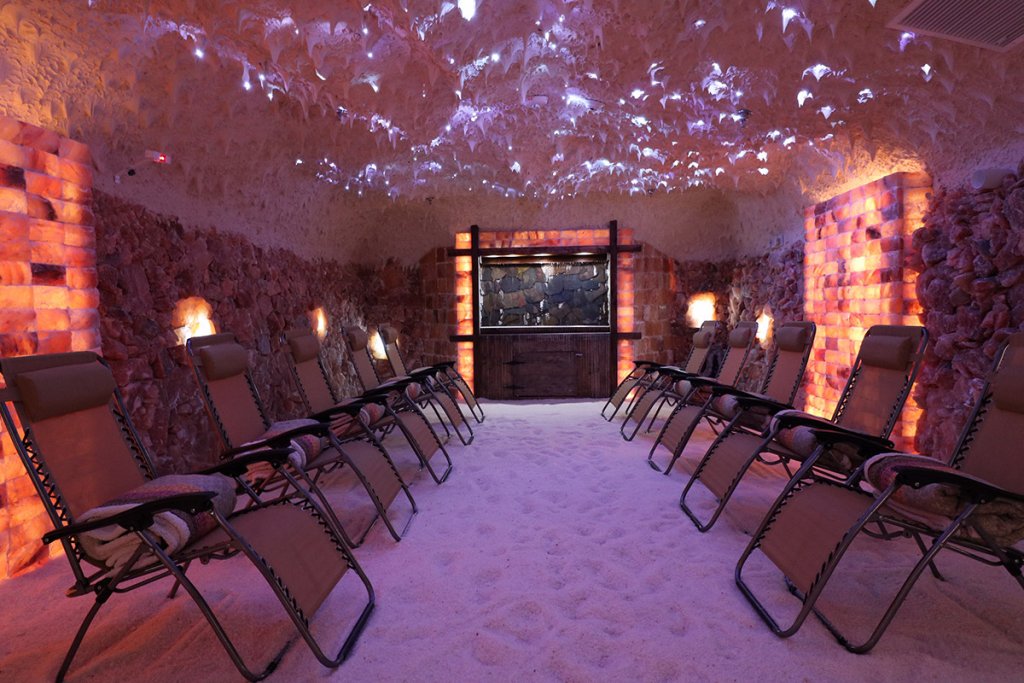 Conventional Himalayan Salt Cave
Every salt boulder, brick and tile is meticulously stacked. Reproducing a cave-like atmosphere, the walls are illuminated with serene lighting. Ensuring a unified theme exists between walls and ceiling, all caves feature our traditional stalactite, fibre-optic lights.
A brick walkway often graces the entrance, allowing for wheelchair accessibility, while loose, pink or white salt crystals cover the remaining surface area.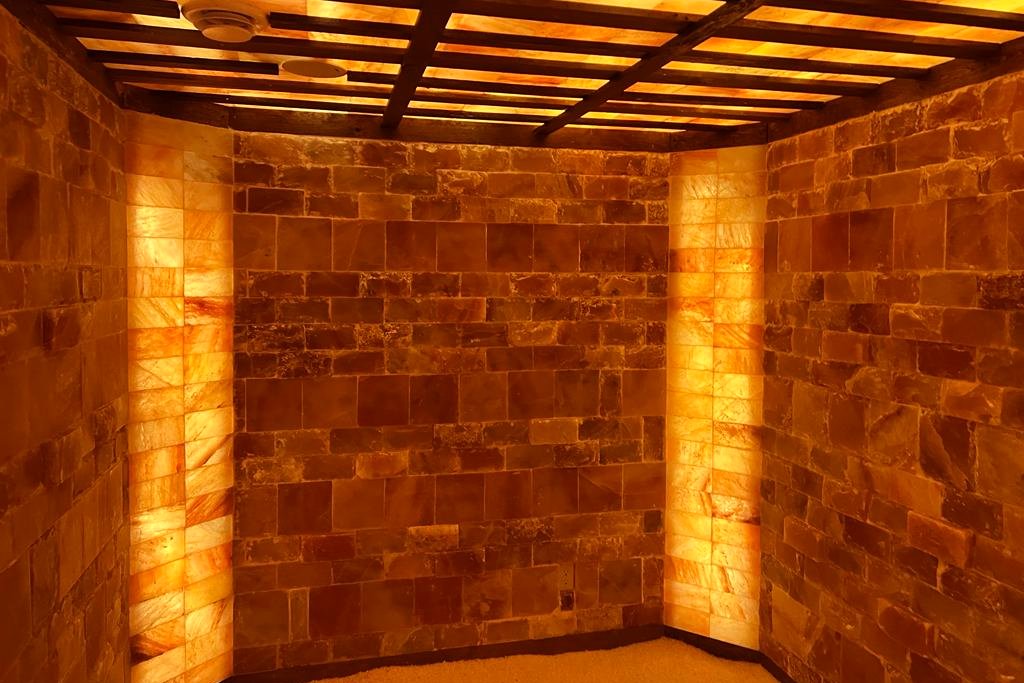 Salt rooms provide a true digital detox that's great for smaller spaces. The salt therapy room is cosmetically constructed to emphasize more salt brick and or tile. Select Salt brings agility and flexibility to the table. We work with our clients to maximize their space and revenue-generating capacity.
We design and build salt rooms in as little as 85 square feet of space. Every salt room and salt cave is equipped with a medical grade HaloGenerator.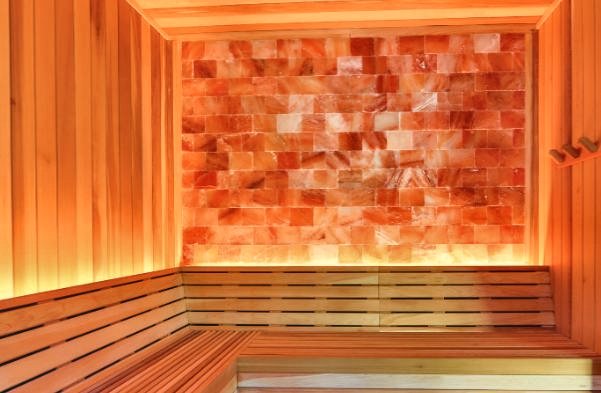 The addition of authentic Himalayan salt into a sauna elevates the experience of any sauna to another level.
If you have a room available, you can turn it into a completely customized authentic Himalayan Salt Sauna.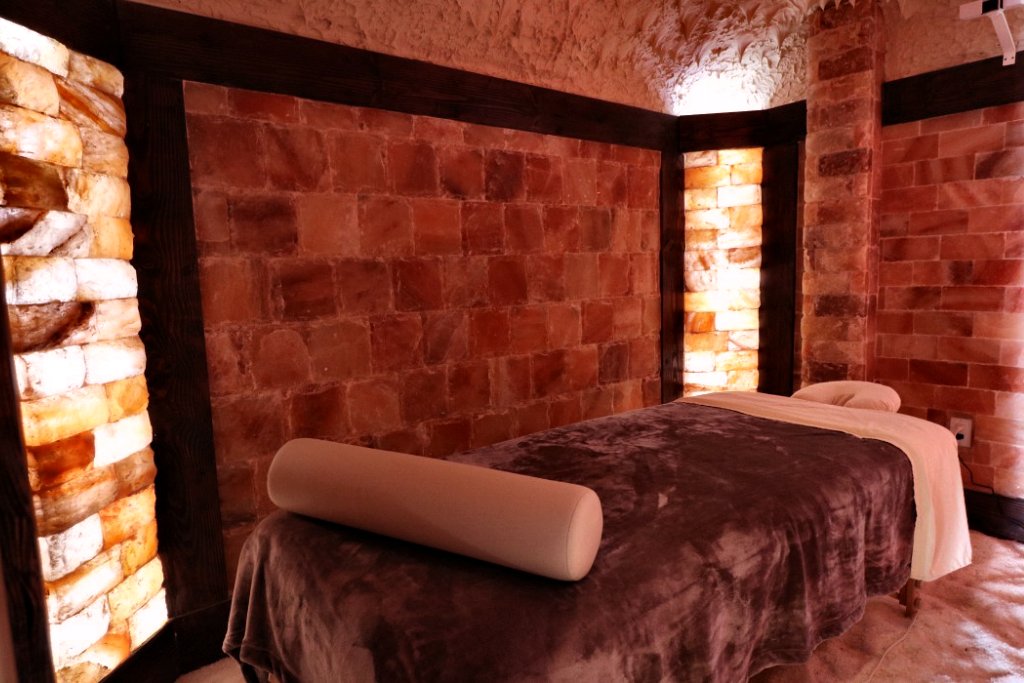 Massage, Meditation or Yoga Room
Expand your new or existing business with a salt room. We build salt rooms to fit your space. We equip these therapeutic salt sanctuaries with halogenerators. This provides additional salt therapy benefits combined with other treatments. These man-made microclimates are a true synergy between the forces of nature, science and art.
Water-cascades, salt benches, chimneys, skylights are examples of only a few value add features that can add unique charm and ambiance to your salt cave or spa. Each salt cave or salt room Select Salt builds is entirely customizable. Depending on your goals, you may choose to add one or more aesthetic choice to enhance the beauty of your space.
"Select Salt built our salt cave and massage salt rooms in Guelph 7 years ago. To this day, their ongoing customer support and quality of salt products I buy for our Spa are by far the most superior I have come across in North America!"
Julie Kosmala
Natures Salt Cave, Guelph Ontario
"This company is amazing!! They built our dream Himalayan salt cave in Smyrna, TN. They were great to work with and very professional. I highly recommend them."
Jodi Crossnoe
The Salt Barn, Smyrna TN
"This company built our stunning cave. We get so many compliments from our customers. Many comments of how much energy is in the room as well. I love our cave!!! The gentlemen that built our cave are like no others either. Very personable and very knowledgeable. I am so glad we picked them to build our cave."
Debbie Greenhouse
The Himalayan Cave, Mentor Ohio
"After researching several companies to build my new salt cave, I chose Select Salt and I am so glad I did! They were extremely patient with my many questions and their workmanship proved to be superior while sticking to the timeline and price. They also happily assisted me in follow up visits. I highly recommend them!"
Arianne Schuck
Salt Cave of Darien, Darien Connecticut
"Nice website. Easy to use and very functional. Our family has been cooking with your salt for years."
Neil H.
"I absolutely love working with Select Salt! They built such beautiful caves for us. Their customer service has been extremely helpful and ongoing. They are easy to work with, knowledgeable, and helped custom design our dream caves. I highly recommend and feel lucky to have found them."
Wendy Shulman
Roslyn Salt Cave, Roslyn NY
"Words cannot describe how wonderful everything turned out. It is completely beautiful and you truly have a talented team!
Thank you so much!."
Michelle Grant
Sol Himalayan Salt Cave and Spa, Evans, Georgia
Salt, also known as sodium chloride, is a ubiquitous mineral that has been a valuable commodity for humans throughout history. It has been used as a seasoning, a preservative, a currency, and even a symbol of friendship.
read more
Frequently Asked Questions
How long does it take to build a salt cave?
The average salt cave buildout takes 14-18 days, with larger salt caves, above 450 square feet, taking upwards of even 25 days to complete.
How Does Salt Therapy Work?
The halogenerator disperses an active dry salt aerosol via a fan process. The salt aerosol concentration is controlled using optoelectronic sensors within the room. This maintains ideal conditions and proper ventilation flow. Some 80% of the aerosolized salt particles measure less than 5 microns. This allows for effortless absorption by the human body.
Water cascades, typically constructed of softwood and utilizing special equipment, pump salt brine at a slow, steady pace. As the brine evaporates, it produces a saline vapor effect within the cave. This creates a higher concentration of negative ions, naturally found around flowing water or oceanic environments. Learn more about the differences between wet and dry salt therapy.
How much does it cost to build a Salt Cave?
At Select Salt, we keep our pricing simple: all quotes are based off of your floor's square footage (the space we will be building on). We have something for every budget, regardless of your room size or preferred style of salt room. 
All materials, transportation of the materials to your site, labour are included in our pricing model. Also included is your halogenerator.
Who can start a salt therapy business?
The short answer, is absolutely anyone! Applications of Himalayan salt therapy are growing remarkably every day. Small business owners, yoga, meditation studios, spas and resorts looking to diversify their services, restaurants and wellness centres are all becoming more aware of the benefits salt therapy can bring their communities.