A decorative feature that can be added to any room.
What is a Salt Wall?
Salt Wall: a brick and tile mix with sporadic backlightingA salt wall is an add-on or feature that can serve as a beautiful focal point of any room.
Made with authentic Himalayan salt bricks and tiles, a salt wall is commonly found in spas and saunas where a full salt-room build is not feasible, and is a great alternative at a fraction of the cost.
A prevailing trend is the addition of salt walls in a retail setting, as a standalone wall, or even a backsplash to a shelving unit. Hospitals as well as private residences have been incorporating salt walls in the recent year, as halotherapy continues expanding its footprint in North America.
An added benefit of a salt wall, besides its rusic beauty and aesthetic appeal, is the therapeutic benefit that can be derived from it as well.
Mood Enhancing Effects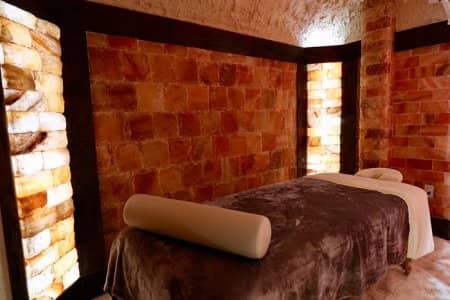 Salt wall combo with natural salt bricks and wooden beamsDepending on the room and size of the wall, each salt wall is custom made to enhance mood, and to provide a feeling of comfort and warmth.
Aesthetic Appeal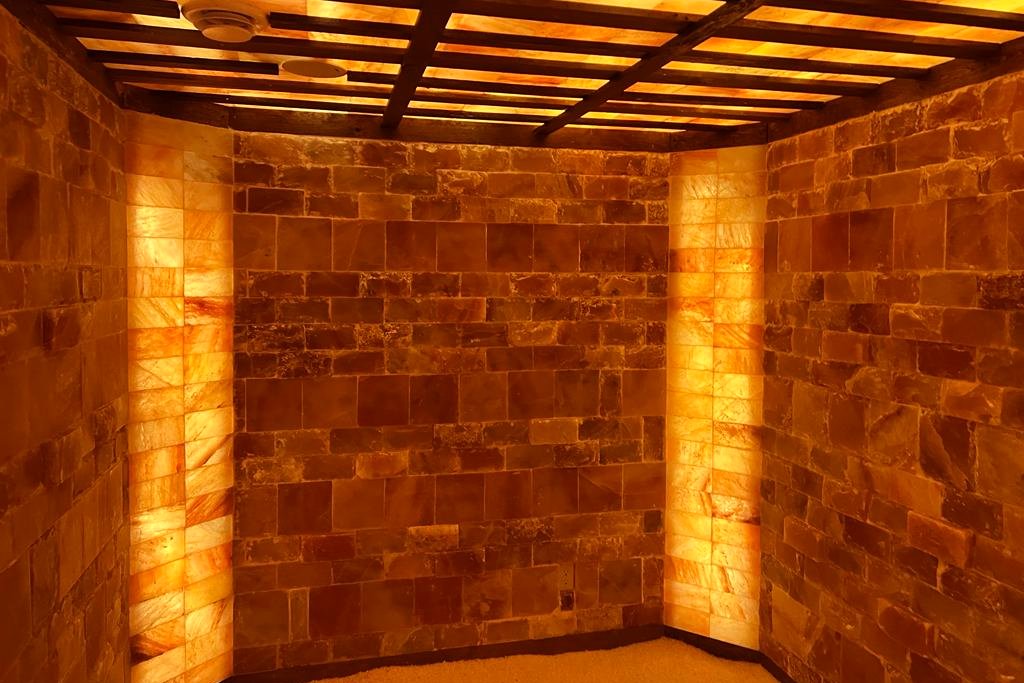 A fully backlit salt wall (flat tile)A custom made salt wall, especially if illuminated, draws attention, provides character, and enhances beauty.
Salt bricks with a "natural" surface provide more of a rustic look, whereas salt bricks with a flat finish provide more of a streamlined, modern look. Wooden cedar beams further enhance the wall and provide more of a cave-like feel in the room.
Therapeutic Benefits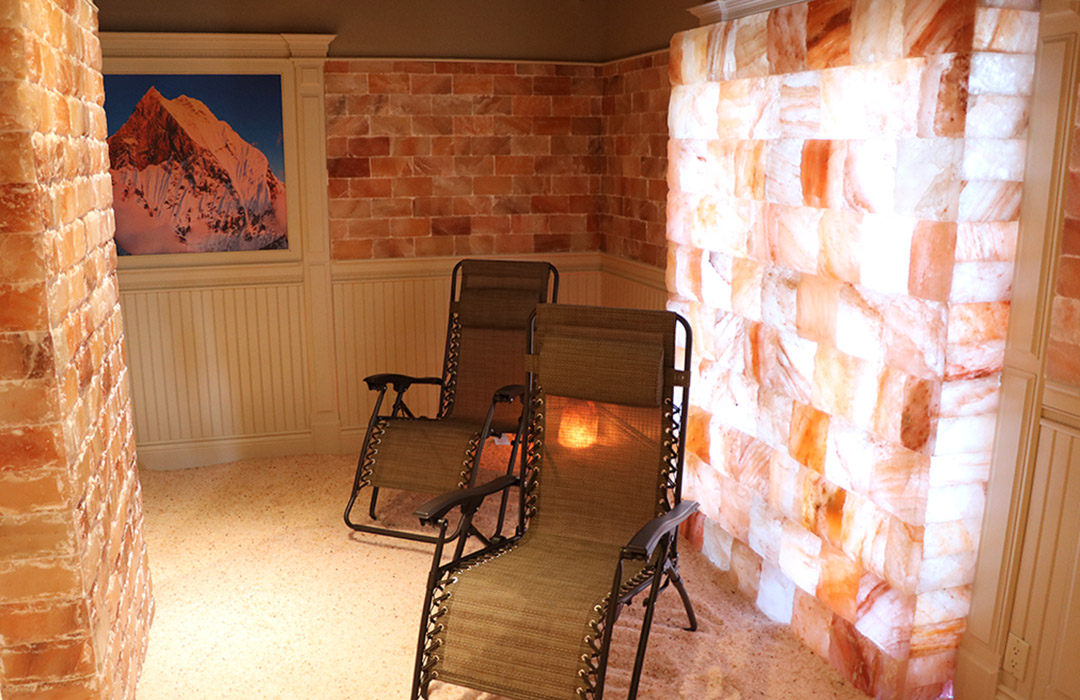 Rear: salt wall with flat salt bricks.
Foregound: fully backlit natural salt bricksCustom backlighting creates an ambient glow, and with adequate lighting, can provide just enough heat to help permeate the salt and promote negative ion production.
Custom Designed Salt Wall Add-on
As with all of our salt cave add-ons and custom designs, we take pride in the craftmanship of our custom made salt walls.
We use authentic Himalayan salt bricks, tiles and boulders that we import from the Khewra Salt Mine in Pakistan at the base of the Himalayan mountains.
Each salt wall design is custom, and depends on the size and shape of the room, as well as the needs and desires of the client.
We meticulously cut, stack and layer each salt brick and tile, making sure that each salt wall is a visual masterpiece, and is sure to impress your guests for any occasion.
---
We hope you found the information above useful. Leave a comment below, or contact us if you have any questions.