We recently published the article Taking a Salt Bath: The Proper Way, outlining the best way to take a salt bath.
In this article, we we will explore the various types of salts that can be used in a salt bath and discuss the benefits of each, with special emphasis on the wonders of Himalayan salt.
Salt baths have been a cherished wellness practice for centuries. The soothing blend of warm water and salt can offer a sanctuary for relaxation, skin rejuvenation, and even potential health benefits. While many consider this a luxurious ritual, it can be as simple as filling your bathtub and adding a scoop of your chosen salt.
Epsom Salt
What is it?

Epsom SaltEpsom salt is a mineral compound of magnesium and sulfate. It's a popular choice for baths and is readily available in drugstores.
Benefits
☑ Muscle Relaxation: The magnesium in Epsom salt may help to relax muscles and relieve stiffness.
☑ Stress Reduction: Magnesium is often considered a "stress-relief" mineral that may help to calm the nervous system.
☑ Detoxification: Epsom salts may assist in drawing out toxins from the body, although scientific evidence to support this claim is limited.
Dead Sea Salt
What is it?

Dead Sea SaltHarvested from the mineral-rich waters of the Dead Sea, this salt contains a blend of magnesium, calcium, sulfate, and other trace minerals.
Benefits
☑ Skin Health: Dead Sea salts are often recommended for conditions like psoriasis and eczema.
☑ Anti-inflammatory: The high mineral content can have anti-inflammatory effects, which may help with conditions like arthritis.
☑ Improved Circulation: Some users claim improved blood circulation after a Dead Sea salt bath, although this is primarily anecdotal.
Sea Salt
What is it?

Sea SaltSea salt is produced through evaporating seawater and usually contains a variety of trace minerals like potassium, zinc, and iron.
Benefits
☑ Skin Exfoliation: The coarse grains of sea salt make it excellent for skin exfoliation.
☑ Natural Healing: Sea salt baths may accelerate the healing of minor cuts or bruises.
☑ Relaxation: The trace minerals can have a soothing effect on the body and mind.
Himalayan Salt: The Pink Gold
What is it?
Sourced from the Punjab region of Pakistan, near the Himalayas, this salt is known for its distinctive pink hue, which comes from its trace minerals, including iron, potassium, and magnesium.
Benefits

Pink Himalayan Bath Salt☑ Rich Mineral Content: Himalayan salt boasts an impressive range of 84 trace minerals, offering a broad spectrum of health benefits.
☑ pH Balancing: This salt is often touted for its alkalizing effects, which may help balance the body's pH levels.
☑ Air Purification: While not directly related to baths, Himalayan salt is often used in salt lamps that claim to purify the air.
☑ Detoxification: Similar to Epsom and Dead Sea salts, Himalayan salt aids in the detoxification process.
☑ Relaxation: The minerals in Himalayan salt can promote relaxation, making it ideal for stress relief.
☑ Respiratory Benefits: When used in steam baths, Himalayan salt may help with respiratory conditions.
Why Emphasize Himalayan Salt?
Himalayan salt is often considered the purest form of salt available, untouched by many of the environmental factors that plague other forms. Its rich mineral content goes beyond basic sodium chloride, offering a cornucopia of benefits that align both bodily health and mental well-being.
Here's why Himalayan salt baths are exceptional:
☑ Holistic Wellness: The wide array of minerals can offer a more comprehensive range of health benefits compared to other salts.
☑ Aesthetic Experience: The beautiful pink crystals can add a touch of luxury to your bath, making it aesthetically pleasing.
☑ Versatility: Beyond baths, Himalayan salt can be used in cooking, as a surface for serving foods, and even as a decorative element in lamps, providing a multifaceted approach to wellness.
Conclusion
Salt baths can offer a tranquil escape from the rigors of daily life, providing a range of health and wellness benefits that vary based on the type of salt used. While Epsom, Dead Sea, and sea salts each have their own set of advantages, the exceptional purity and rich mineral content of Himalayan salt make it a standout option for those looking to elevate their bathing experience to new heights of relaxation and rejuvenation.
So the next time you're looking to indulge in a self-care ritual, consider the healing embrace of a Himalayan salt bath.
Where Can I Buy Himalayan Bath Salt Crystals?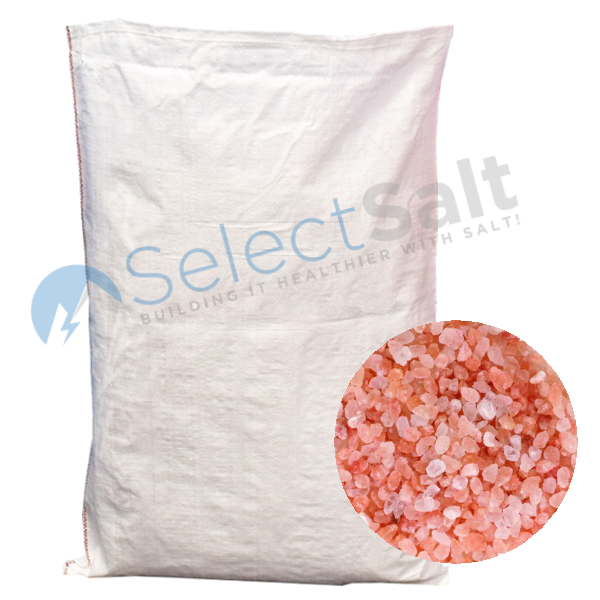 We offer authentic Himalayan pink bath salt crystals, containing 84 essential minerals and trace elements vital to your body's well being.
These are coarse grain crystals, mined from the Khewra Salt Mine at the base of the Himalayan mounains.
Comes in bulk quantities at wholesale pricing. No minimum.
Size: 25 kg (55 lb.) bag, shipped to your door.
Order Online: Pink Himalayan Bath Salt
25 kg (55 lb.) bag