What is a Halogenerator?
Simply put, a halogenerator is a device that converts pure sodium chloride crystals (Medical or USP grade salt) into dry salt aerosol and disperses it into a salt room chamber where clients can relax while they take in the natural benefits of dry salt therapy.
There are many different manufacturers of halogenerators.
At Select Salt, we use 2 particular models.
HaloSpa-03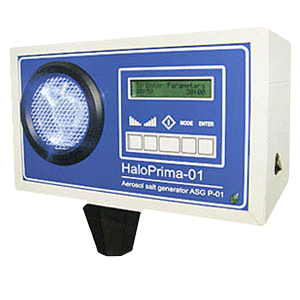 HaloSpa-03 (HaloPrima-01)Also labeled as HaloPrima-01, the HaloSpa-03 is one of the latest advanced halogenerators produced by Halomed, and is based on decades of research and feedback.
Featuring enhanced reliability and performance, this unit can authentically mimic natural salt cave microclimates with ease via the use of a sophisticated sensor mechanism that detects and controls the levels of dry salt aerosol and negative ions in the salt room chamber.
This unit is appropriate for room sizes between 150 to 600 square feet.
HaloSet

HaloSet (HaloPrima-03)Also labeled as HaloPrima-03, the HaloSet is another advanced unit and features a built-in feeder mechanism which automatically loads salt into the grinder as necessary. It's salt compartment can hold enough salt for a day's worth of sessions.
This unit is portable and can be moved from room to room, and comes with a wireless remote control that works from distances of up to 50 feet — which allows you to control the aerosol concentration settings, among many other options.
This unit is good for rooms up to 150 square feet.
How Does a Halogenerator Work?

Halogenerator – How it worksAll Halogenerators work on the same basic principles:
You place pure sodium chloride (salt) crystals into the feeder mechanism, which is then released into the grinder.
The grinder is typically made of a high-tech cutting mechanism that grinds the salt crystals into an aerosol (micronized particles of salt) which can be mixed with the air in the atmosphere.
These particles are then dispersed by a powerful fan that pushes the salt aerosol into the salt chamber room.
The latest units (like the ones mentioned on this page) will maintain optimal salt aerosol and negative ion concentrations within the salt room chamber via a feedback sensor mechanism, will operate smoothly and efficiently, and will provide years of trouble-free service for your salt therapy business.
What Type of Maintenance is Required?
To keep your halogenerator working smoothly, it is recommended to simply spend a couple of minutes each day to clean the salt compartment, and once per month to clean the fan. Easy care instructions are included with each unit.
The halogenerator units mentioned on this page are modular in design, allow for easy access and cleaning, and require no special tools or supplies.
---
We hope you found the information above useful. Leave a comment below, or contact us if you have any further questions.