Saltitude Himalayan Salt Cave
Lincoln, Rhode Island
Saltitude Himalayan Salt Cave
Saltitude Salt Cave in Rhode Island is constructed using over 13,000 pounds of pink Himalayan salt. What's more, it simulates the microclimate of deeply-nested natural salt mines found in Poland. Saltitude merges both the practice of meditation with the benefits of halo-therapy. Most of all, the salt cave itself is truly a sight to behold. This expansive space provides a transformative experience, perfect for enhancing the meditative experience. Select Salt designed and built this cave with this ethereal purpose in mind.
Construction Details
An illuminated landing, made entirely of hand-placed salt bricks, welcomes you to the space. When entering, the entirety of the space is laid out before you creating a visually-pleasing sight for the eyes. The rounded room fits in nicely with the owner's holistic vision of wellness.
Furthermore, designing and constructing this salt cave was a feat of technology. Indeed, the sheer quantity of salt boulders used for this project was enormous. Salt boulders are carefully and deliberately stacked from floor to ceiling along the sides of the room.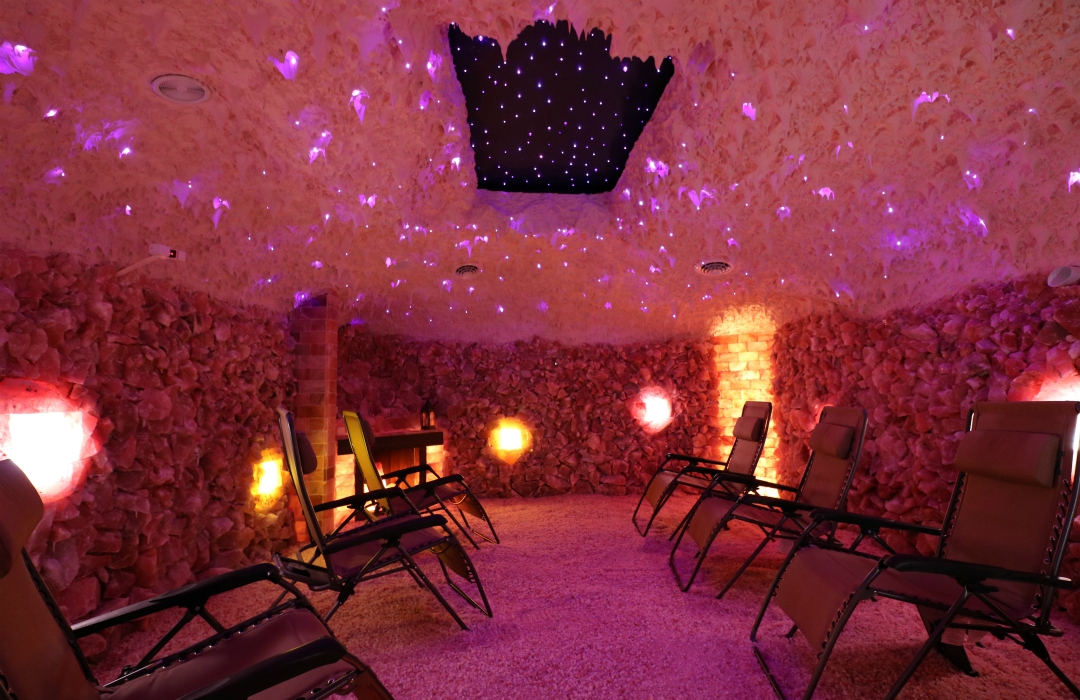 Select Salt's signature stalactite ceiling hovers over the space, enhancing the cave-like feel of the room. Unique to this space, the overhead stalactites blend seamlessly down the walls into the salt boulders. This makes it feel as though the space is welcoming you with a warm hug.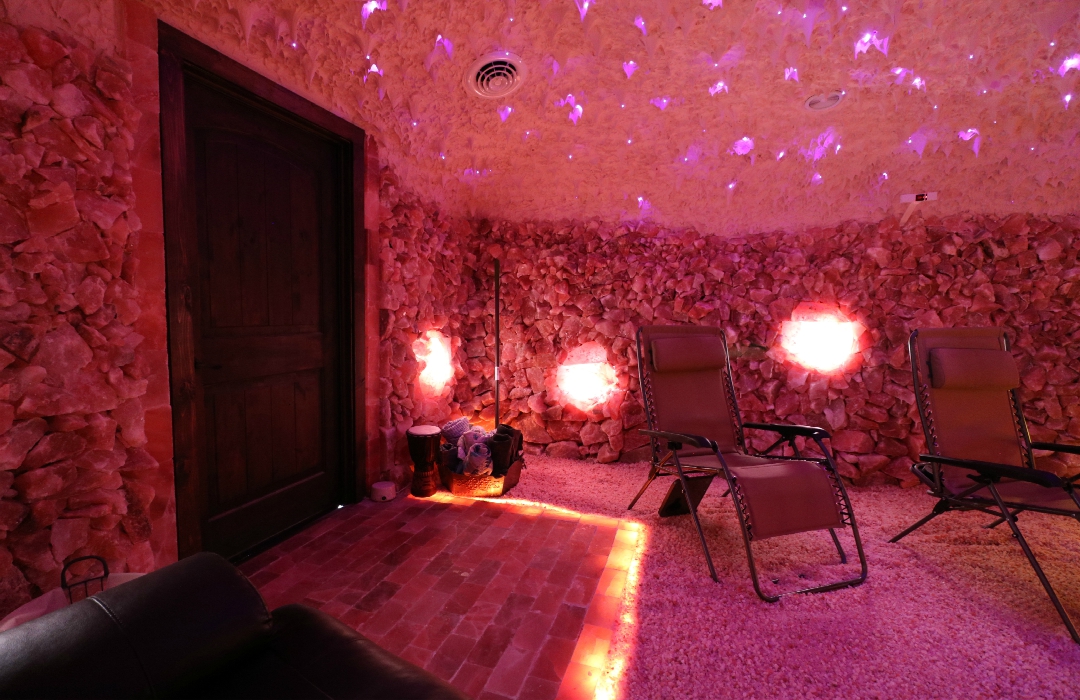 A large skylight featuring fibre-optic lighting is enchanting as guests experience the feeling of being outside during twilight. Visitors to this salt cave can also run their fingers through the loose salt crystals scattered over the floor. This allows them to experience the pleasant sensations of salt in its granular form. 
Most noteworthy, a salt brick "fireplace" feature uses illuminated salt bricks in its hearth, replicating the beauty of a roaring fire. Furthermore, dry salt enriches the air through the halo-generator. Comfortable chairs make experiencing the benefits of halo-therapy in this space even more enjoyable.