Ellicottville Salt Cave
Ellicottville, New York
Ellicottville Salt Cave
Get ready to relax and unwind and in this stunning salt spa near Holiday Valley Ski Resort in New York. Here, you can destress and benefit from salt's healing qualities. Or, you can loosen up after a long day of skiing. Certainly, Ellicottville Salt Cave's one-of-a-kind spa, tailor-made by Select Salt is a must-see. This thoughtfully-planned salt cave boasts a soothing water cascade. There's also therapeutic lighting and a quality halo-generator to deliver healing ions found in salt.
Construction Details
 This Select Salt project was constructed purely from pink Himalayan salt. Bring a friend because it's capable of seating six. Gravity chairs, blankets and pillows are provided for total comfort. These also ensure guests enjoy the ultimate in leisure and the serenity of the space. To build this cave, Select Salt first hand-picked and placed each salt boulder, with shear craftsmanship and patience.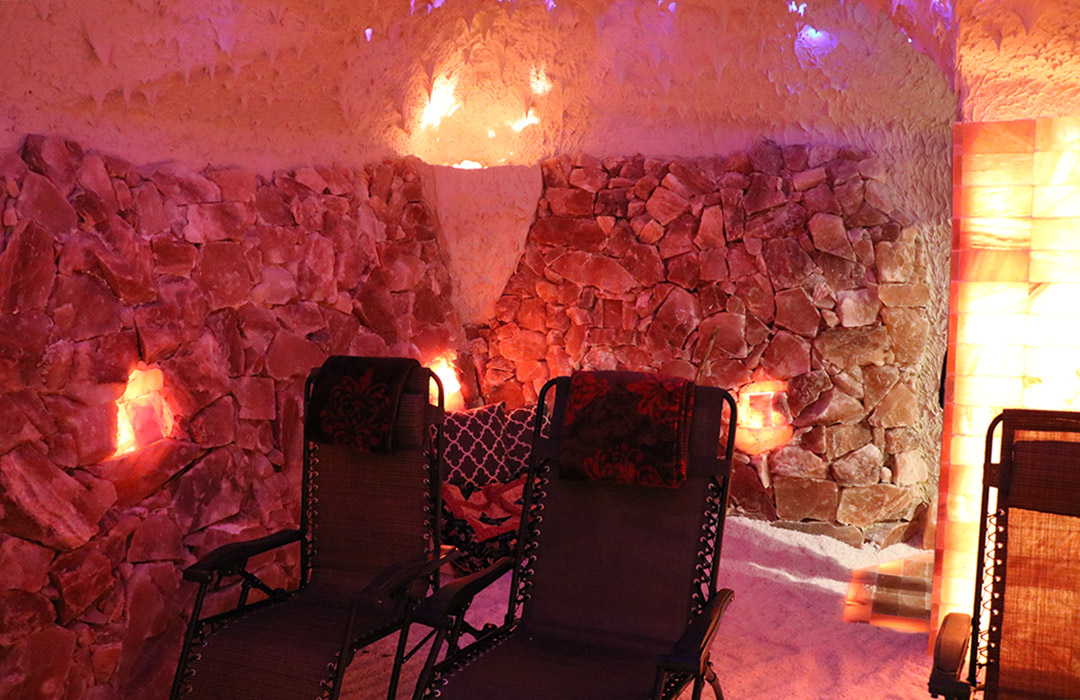 All salt walls were designed with an artistic precision, to display the beauty of each raw salt element. Furthermore, this wall treatment plays upon the natural formations inherent in Himalayan salt. This also takes advantage of salt's natural aesthetic qualities.
The tranquil environment was designed to help guests relax and recharge by breathing in the healing salt air. Calming music and ambient colour lighting also boost the sensory experience of this salt cave. Both are delivered through an amazing sound system. Beautiful sound and an amazing light show cascade throughout the atmospheric room. Ultimately, this salt cave is truly designed to stimulate all the senses while also offering maximum benefit from halo-therapy.