Adirondack Salt Cave
Adirondack, New York
Adirondack Salt Cave
Nestled in the northern Adirondack mountains in New York, Adirondack Salt Cave redefines what it means to relax! This incredible cave, the first of its kind in the region, fuses natural elements and modern features with halo-therapy. More than 7,000 pounds of pure Himalayan salt went into this design to create a spectacular, unique salt cave.
Construction Details
A striking salt brick pathway, edged in light, leads you into this inviting salt cave. This incredible space incorporates many different treatments, allowing guests to breathe easy and enjoy the benefits of salt. Furthermore, a state-of-the-art halo-generator infuses the air with beneficial nutrients. This dry salt therapy provides strong healing and therapeutic benefits to those who visit this cave.
Loose pink and white salt crystals fill the floors, with raw boulders and straight-cut salt bricks bring modern flair. The stalactite ceiling contains state-of-the-art fibre-optic lighting set against a twilight backdrop cascading though the skylight feature. A unique bench constructed entirely of Himalayan salt bricks is brightly illuminated with custom-designed lighting. This special piece offers function and aesthetic and casts an ambient glow throughout the space, enriching the room's beauty.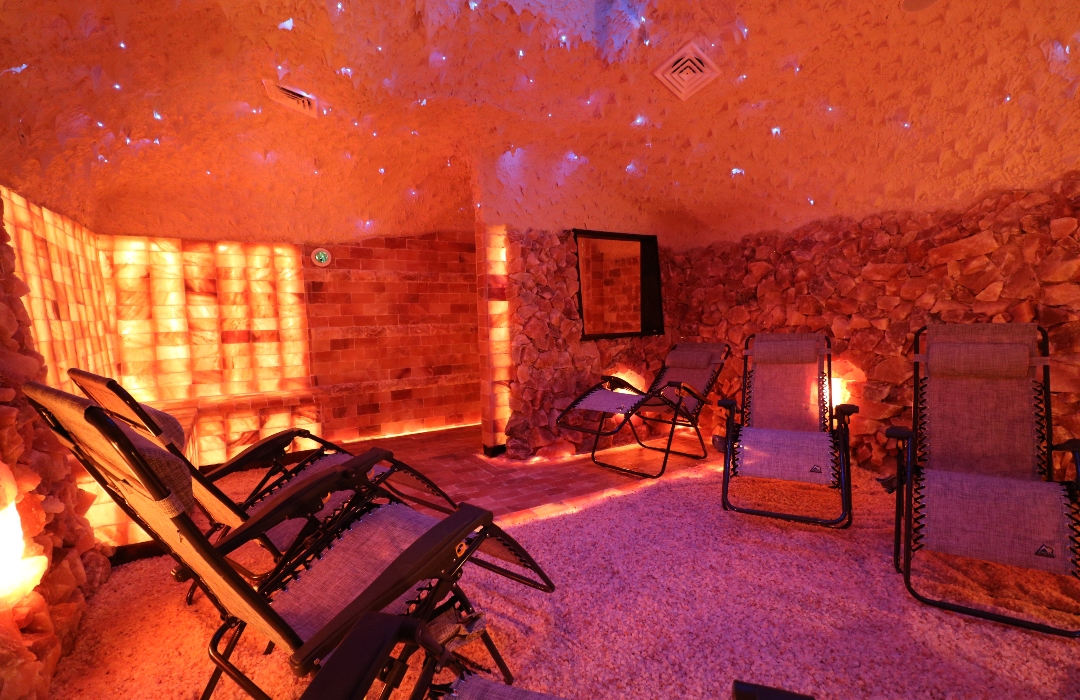 Select Salt designed and built an entire salt wall framed with gorgeous reclaimed wood to create a beautiful juxtaposition of materials and colour. Custom up-lighting shines against cave-like pillars and a salt brick chimney complete the stunning visual experience of the cave.
 This cave is the perfect place to unwind in comfort while enjoying the full benefits of dry salt therapy. Reclining zero gravity chairs allow guests to transport themselves far away from the stresses and doldrums of day-to-day life. Guests to this salt cave leave refreshed and calmed. Also, many are ready to take on the world after benefiting from the nutrient-rich air of this environment. Adirondack Salt Cave provides a holistic wellness approach for all guests to enjoy.